We all know gardens thrive with regular maintenance and care. But for many of our clients, the garden is the first to miss out when life gets busy. Between work, kids, sport and family – it's no wonder there's no time to lay the mulch or pull the weeds!
Equally, lots of our regular garden maintenance clients would love to spend their days in the garden but unfortunately sore joints, age or ill health prevent them from being as active as they once were.
At Weeding Women we offer a full range of garden maintenance services including:
Weeding, tidying, edging and trenching of garden beds
Pruning and shaping trees and shrubs (some height restrictions apply)
Planting and transplanting flowers and shrubs
Raking, sweeping and blowing down
Fertilising and mulching
Annual rose pruning
Care of pot plants and hanging baskets
Spray treatments are also available for lawns, couch grass, pavers & driveways, scale and pests – view the details HERE.
Rubbish removal isn't typically included in our garden services however we will place all rubbish in the green waste bin or supply reusable bags for a small fee. For larger jobs you may wish to arrange a green waste skip bin, or hessian bag which we can assist with if required.
Some of our franchisees offer rubbish removal for an additional cost.
To view a full list of the specific services available in your area, enter your suburb below.
Why regular maintenance?
Regular maintenance means your garden has the best opportunity to thrive and always look lovely. Our gardeners nurture and care for your garden like it's their own. That means they'll get the important jobs done each season. Like cutting back the shrubs, keeping an eye out for pests and disease and recommending when it's time to re-mulch and fertilise. They'll take over the reins so all you have to do is sit back and enjoy the natural beauty of a healthy, thriving garden.
Our regular maintenance clients enjoy the benefits of:
Reduced rate per visit
Proactive maintenance (if we see something that needs doing, we'll do it!)
A pre-arranged booking so you know when to expect us
We build a profile of your requests and priorities so the team knows what you want from each visit. No need to brief them each time!
Relationship with you, your family and pets (this is often important for our elderly customers)
Total Gardening Hours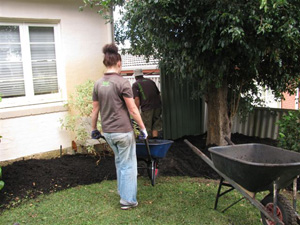 Our gardeners typically work in teams of two or three.
For example, if you book a 3 hour visit –
A team of two will be in your garden for 1.5 hours (2 gardeners x 1.5 hours = 3 hours)
OR
A team of three will be in your garden for 1 hour ( 3 gardeners x 1 hour = 3 hours)
Either way, it is 3 gardening hours.
It is the total number of gardening hours that determines the final service fee.
"I wanted to say thank you. The ladies, were wonderful, and now I have the fabulous color of geraniums, when I come home from Chemo tomorrow, all of our garden areas including the grandson's veggie garden is ready for his next visit. Thank your staff again, for a wonderful job, and I thoroughly enjoyed their company today. I had a good day girls, they will understand." Jeanette of Yokine